People on the Côte d'Azur generally don't expect anything else but glorious sunshine. When things are different they are very ill prepared. I never check the weather forecast; I carry an umbrella and a pair of sunglasses in my bag, what else can possibly happen here? Most people only carry a pair of sunglasses; it never rains, right? So it was no small surprise that cafe owners were again totally caught on the hop when the first storm of the autumn season hit. Work crews were busy, this morning on the beach salvaging decking, chairs and potted palm trees from the beach fronts.
I guess I'm not the only one that doesn't bother with the weather forcast. We repare the damage and promise ourselves we really should be better prepared (Yes these storms cause havoc every year!) but after a few weeks of glorious weather we have lulled ourselves back into a false sense of security; Its the south of France, what's the worst that can happen.
On other news:
I've not progresses much on my novel as with work, book promotion and a trip to Holland, I've not had the time to sit down and write. The promotion on the other hand went well. I had a free book offer on Language in the Blood and used the site: ilovevampirenovels.com
I've given away an impressive 771 books in two days and having a number of sales and KU borrows too in the days that followed. As it was a free book, the advert might not pay entirely for itself, but it will be interesting to see the next two weeks if it was worth it.
Both the language in the blood books are now also available in paperback via Amazon and createspace(There is even a distributor offering a second hand copy? How? I haven't even received my copies yet!)
Language in the blood, second hand!!! on Amazon
More news:
The Anthologie I'm part of; Holes, has been made available to download for free on Smashwords:
Holes, the anthology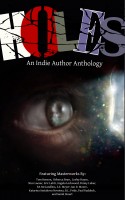 You don't need any devises and can just download as a pdf on your computer. Its a great collection of dark stories with Holes as a central theme.